Surfin' Cube
A surfing lifestyle-oriented concept rendering for the 2010 Nissan Cube. Influenced by Ed Roth's Surfite show car, this asymmetrical custom showcases potential aftermarket accessories and customizing potential of this new vehicle. Learn more at problemchildkustoms.com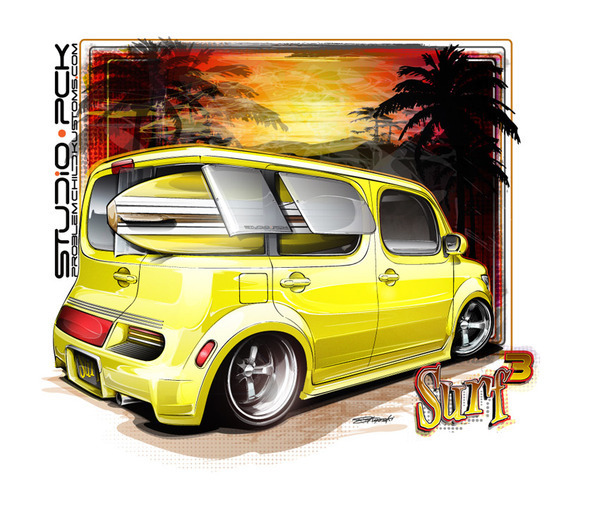 I've been working on a great project lately, having been given accessto the new Nissan Cube on a great, intimate level, and the project hasspawned a number of concept renderings... While I can't show many ofthese publicly, I can, however, share these two versions, a surf-goingcustom with serious inspiration from Roth's Surfite... A full-custom,surf lifestyle-oriented concept for the 2010 Nissan Cube.

I washeavily influenced by the car's asymmetrical design, and applied keyelements inspired by Ed Roth's "Surfite" show car from the '60's tofurther play-up the theme.

The swing-out glass, shortened rear'gate, and built-in step on the rear fascia all serve functionalpurposes, and the one-off, asymmetrical tail lamps, molded bumpercovers and wild stance are just like icing on the pearl yellow cake.

Hope ya dig it.